Where it began...
In 2012 ibizamode was started by us, brother & sister who liked Ibiza as 'a work and fun' island. With 2 empty suitcases to Ibiza, without a preconceived plan, but with a mission! We were going to make this island ours and bring everything we like to the Netherlands. So Ibiza fashion became everyone's fashion!
Ibiza became a hype, fans grew quickly on socials and after a showroom in the office and ibiza parties throughout the country, ibiza fashion was on! We were also well found internationally and we now ship our packages Worldwide. In NL, the demand for ibizamode shops increased, customers wanted to try on all that fun and experience that real Ibiza atmosphere. The first ibzmode Store in Den Bosch was followed by Amsterdam, Noordwijk and Egmond aan Zee, all in the style of sun, beach, sea, finca... everything that makes us happy (and we think you do too ;)
Meanwhile, we created our own brand ibzmode. By watching and listening to our customers, we try to offer collections that make you happy and that wear well. However, our mission is bigger than just the outside. We want it to feel really good, on the outside and on the inside. We work with small-scale production companies so we know where our products come from. New drops are constantly being added, but we remain just as loyal to the previous collections. On our socials and expressions we like to show how to style a new item with one from previous collections, we hope this way we slow down fast fashion. After all, why shouldn't it hold its value? Feel free to give something you have grown tired of a new life by giving it away or reselling it. Who knows in the future we'll be happy to facilitate that for you!

There is much more in development, as we are in the process of selecting our charities, which we support with a percentage of the proceeds from your purchase. So by buying something beautiful for yourself, you are supporting fantastic projects. More news to follow soon!
From the start of ibizamode.nl, our photo shoots are of course in Ibiza. A magical island that always provides that atmosphere we like to convey. We know the places where we can add that wonderful Ibiza look to our photos and videos.
ibizamode is truly a family business and honestly the whole team feels that way. So be welcome, online & in our stores and join our ibizafamily x
Roy & Tamara
PS: join our ibzmode community on instagram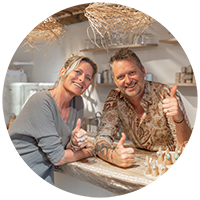 Roy Timmermans
Roy's love for Ibiza is an important part of his entrepreneurial and creative life. Roy therefore knows Ibiza like the back of his hand and takes you to all those well-known but also unknown top spots on Ibiza with his Ibiza tips. As a DJ, he has a passion for deephouse, which he also channels into creating the ibzmode lifestyle collection while travelling through Bali. He is strong in concepts, visuals, designs and everything his creative brain can get its teeth into.
Tamara Timmermans
Tamara's personal mission is to add value and now that is also her responsibility within ibizamode in the broadest sense of the word. Being given the space with a fine team around her to make the company healthy and growing, with an eye for work happiness. Delving into all processes, with more and more room for development, that's what she's all about. Let the energy flow...