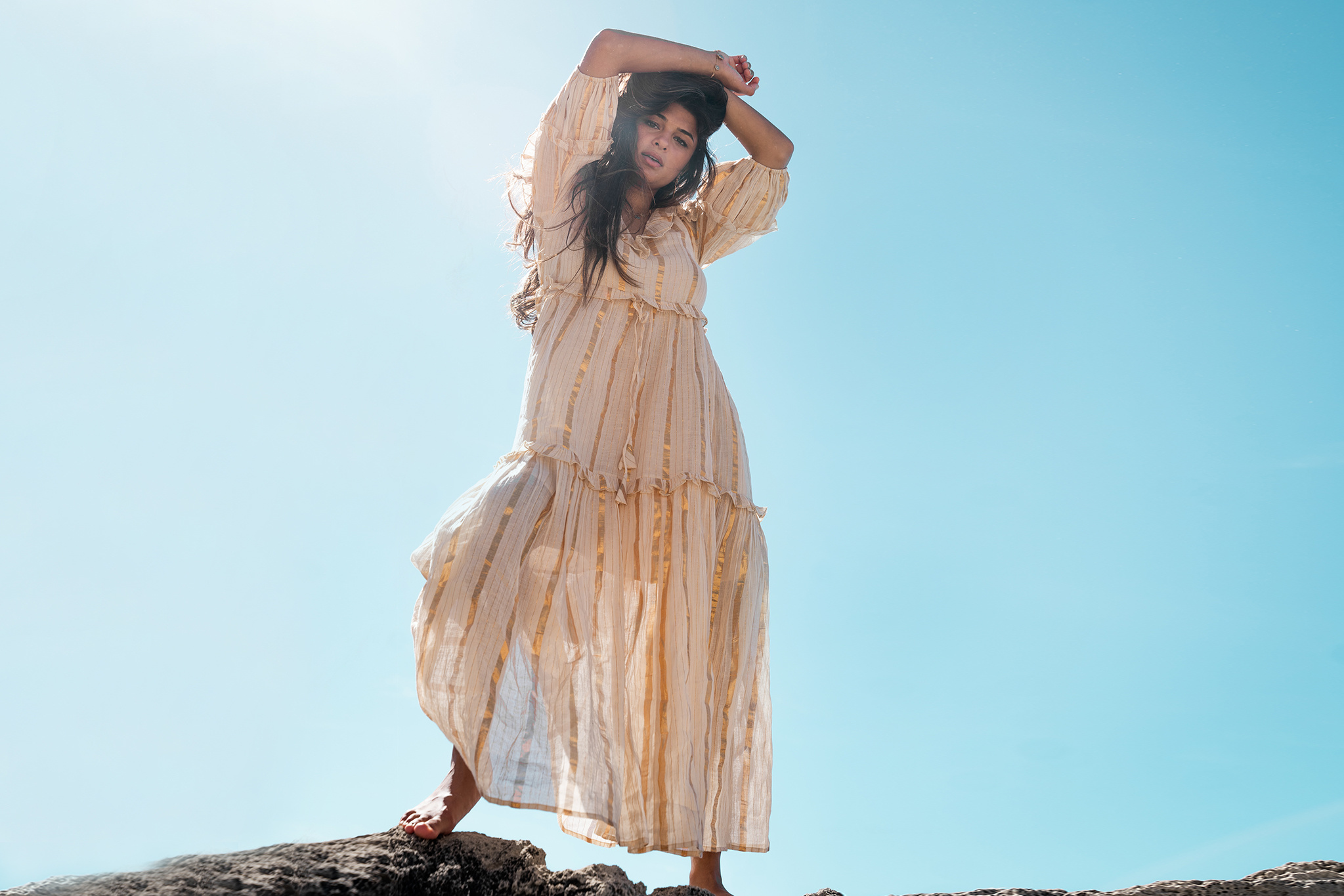 Now that the new year has started, it is also time to start thinking about your perfect summer outfit. Before you know it, the first rays of sunshine will appear and those lovely summer items can be taken out of the closet. Also at Ibizamode we have been busy for months designing new designs for the most beautiful summer items to put together your summer outfit. Like you, we cannot wait for the long summer days, which is why we are already giving you a taste of our great summer collection! You can indulge your fashion heart in our webshop and create not just one summer outfit, but many different ones with all the unique items from our collection. The most beautiful summer tops & blouses, dresses, skirts, trousers, kimonos, bikinis and accessories, we have it all!

We would like to tell you more about our collection and give you 4 tips to help you put together your perfect summer outfit in no time.

 

The ibzmode spring collection 2023: Nomad & Everglow

Dream away with the most beautiful Nomad & Everglow collection. The calm nude tones and beautiful blues of the sea combined with the most beautiful details, remind us of the beaches of Ibiza and Mykanos. This summer, you will want nothing but a summer outfit from Ibiza fashion! We are in love with the latest collections. In short, this should not be missing from your wardrobe.

The Nomad collection & Everglow collection consist of beautiful maxi dresses, tunics, tops & blouses designed by Ibizamode. The collections are available in several colours and are perfect to wear over your bikini for lovely beach days, but also for the perfect date night. Complete your look with our flip-flops & sandals and other beautiful jewellery and accessories.
Create the summer outfit for women in 4 steps

1. Dress for summer to suit your style

Before you start shopping for your clothes for this summer, you should know what you want to project. Are you more into casual and comfortable, or do you like a classy look? Determining your style will help you find the right items within our collection. Our stylists will be happy to help you put together your perfect summer outfit. For personal advice, drop by our shop.

2. Give your summer colour with clothes that shine!

Especially in summer you want to wear clothes that match the bright weather. That is why you will find many different colours and prints in our collection to give your outfit that little bit more. Summery colours include yellow, red, green and blue. But you can also choose soft colours like pastels or beige and white. Whatever colours suit your style, you will find it here in our shop. A summer outfit is best if you combine it with different materials and fabrics. For example, combine a linen blouse with denim shorts or a linen dress with leather sandals. It is important to experiment and let your creativity run wild.

3. Choose the right materials

With hot temperatures, it is not nice to feel uncomfortable in your outfit. In fact, feeling comfortable is one of the most important conditions for creating the perfect summer outfit. That is why we would like to give you some tips on the right materials to wear during the warmer summer months. Choose lightweight and breathable materials. Good examples are: cotton and linen. These materials are airy, breathe well and offer cooling and comfort. Moreover, they are easy to wash and maintain. You will therefore find many items made of cotton and rayon within ibzmode's summer collection.

4. Make it fashionable, with the most beautiful accessories

Accessories are the finishing touch for your perfect summer outfit. A summer outfit is only complete with the right accessories. Think sunglasses, hats, bags and jewellery. Choose accessories that match your style. Let your personality and creativity shine by choosing unique accessories.

With these 4 steps, you can easily create a summer outfit that really suits you. Unleash your creativity and personality and don't be afraid to make new combinations. 
Shop before summer your clothes ladies!

If you don't go clothes shopping until summer, you are usually too late. Chances are you'll make decisions in a hurry and you won't be able to put together your summer outfit at your leisure. Make sure you are completely ready for a fashionable summer and shop here in our webshop or drop by the Ibizamode shop. We will help you replenish your wardrobe and with our new collection you can be sure that nothing stands in the way of a fantastic summer!

 

Never miss a thing!

Get your daily dose of fashion trends, discounts and new collections in your mailbox, so you can be the first to put together your summer outfit! Plus, receive €5 discount on your first purchase! Leave your e-mail address here at the bottom of our homepage.

Want to stay up to date with the latest collections, bestsellers and inspiration? Then follow us on social media:  •  Instagram  •  Tiktok  •  Facebook

 

Have fun shopping!

 

Love,

Team Ibizamode