It's almost summer 2023 and we can't wait to envelop ourselves in the latest and trendiest Ibiza-style clothes. It's time to put away those winter coats and thick sweaters and brighten up our wardrobe with sunny colors and breezy fabrics. Here are the latest fashion trends of summer 2023 for women that you can expect.
1. Maxi dresses
One trend that is absolutely unmissable this summer is maxi dresses. Long dresses are perfect for a day at the beach or a summer stroll along the promenade. They are made of lightweight fabrics that keep you cool in the heat while offering a certain level of elegance. The beauty of maxi dresses is that they are suitable for any occasion. From casual to chic. Here in our webshop you will find all kinds of different variations of this absolute trend item. We also give tips on how to style them in another blog.
2. Fringes and embellishments
Fringes and embellishments are a recurring trend in the fashion industry. They add movement, texture and drama to any garment. In summer 2023 fashion, we will see an increase in fringes and embellishments on skirts, jackets, shoes, bags and even jewelry.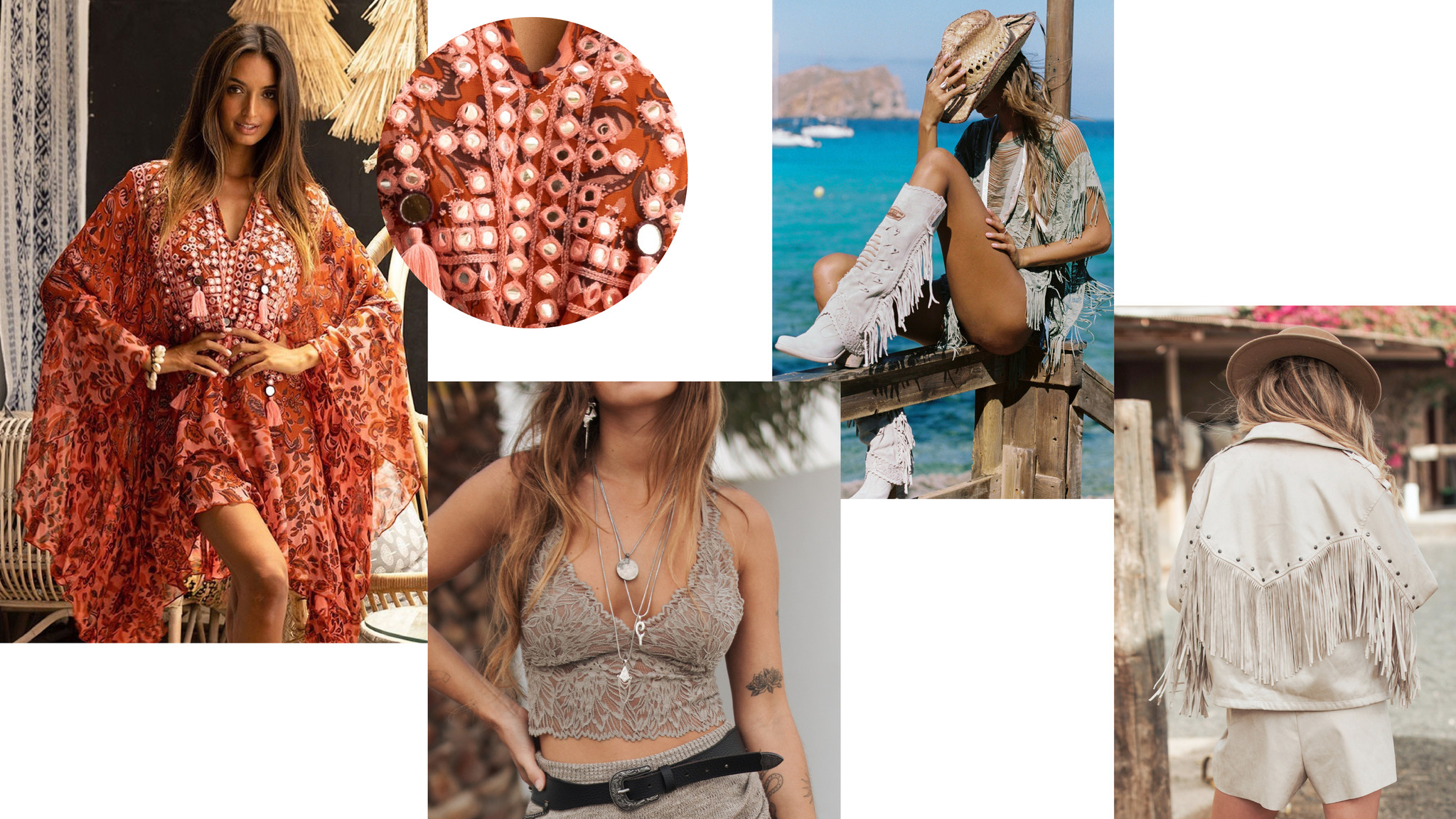 Fringes are versatile and can be worn in casual and formal situations. Consider a leather jacket with fringes or an elegant evening dress with a subtle edge. Fringes and embellishments can also be used to make a statement. An example is a cocktail dress with fringes, whose movement and texture draws all the attention on the dance floor.
Another way to incorporate this trend into your wardrobe is through jewelry. Think earrings with fringes or bracelets with beads and charms. Jewelry is a great way to explore this trend without completely embracing it.

3. Denim on denim
Another trend we can expect to see in summer 2023 fashion is denim on denim. This is a classic trend that has returned in various forms over the years. One way to rock this trend is to combine different shades of denim. For example, try pairing lighter denim pants with a darker denim jacket. You can also combine different textures of this fabric, such as a denim blouse with a denim skirt of a different texture.
Denim on denim is a great trend for casual outfits. It can be worn for a day out with girlfriends or in the evening at a dinner party. Make the look dinner ready by adding high heels to the look, for example. Another plus of this trend is that it is easy to style with accessories.

4. Semi transparent
Semi transparent clothes can be worn in different ways. One way to wear this trend is to combine a transparent blouse with a top underneath. This gives a subtle hint of the semi transparent trend without exposing too much. This is a signature trend for summer fashion in 2023 and you can hardly miss it!
Another way to wear semi transparent items is through lace. Lace is a beautiful fabric that can offer a semi-sheer look without revealing too much. Lace can be worn as a full dress or as a part of a garment, such as just the sleeves.
We are already quite busy putting the most beautiful brands online, such as our own brand of Ibizamode, but also brands such as: Hot Lava, Jaase, Tarifa Soul, PilyQ, Miss June. Also our stores are already full of lovely sunny items. Check out the nearby store here!
#IBZBABES
Have you heard of our new hashtag #IBZBABES? For this new concept, we are looking for ladies who want to create cool content for on their Instagram feed and stories with the latest Ibiza fashion collection. Are you the 'Ibzbabe' we are looking for? Feel free to send us a message on any of our socials!
You can find us on the following channels:
Now that you know about the latest fashion of summer 2023 for ladies, we wish you lots of shopping fun!

Love,
Team Ibizamode