Are you like us all about a long maxi dress, but have no idea how to style it? No worries we are here to help you! We give you four styling tips on how to steal the show this summer in a new maxi dress. With these tips every woman can put together her outfit in a way that suits her clothing style. So read on quickly!

1. Wear sneakers under a maxi dress
Pair your maxi dress with a sneaker and create a balance between chic and cool. The sneaker is the way to combine both styles in one outfit. Not only is this a combination that we see more and more in fashion, but it also wears super comfortable. Go for example for a pair of white sneakers, for a real summer look and feel. You can choose whether you go for a dressy or something more sporty. Choose a combination that reflects your personality and style and you will see that you will shine with our beautiful maxi dress.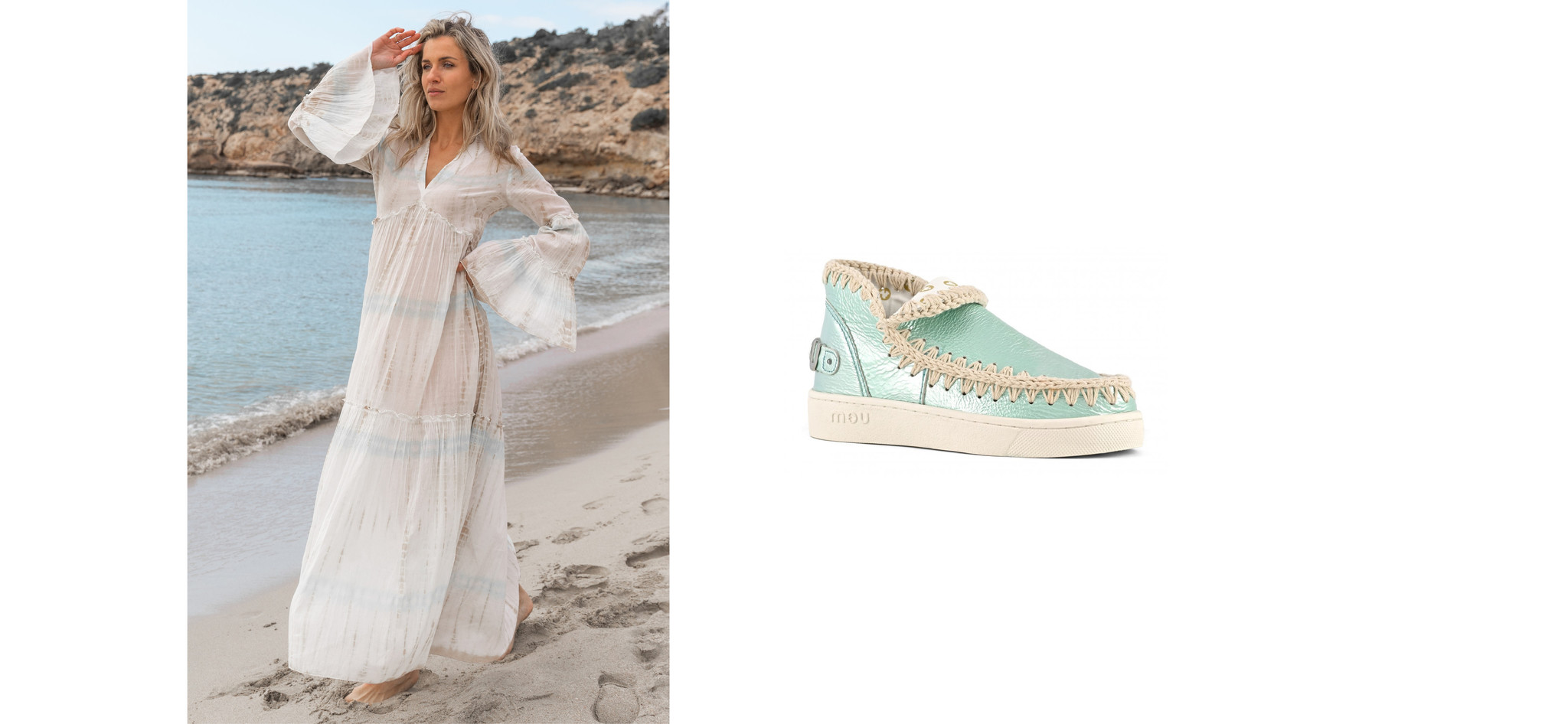 2. Pair the maxi dress with high boots
Have you seen the maxi dress combined with high boots a lot lately? High cowboy boots combined with a maxi dress or skirt. This look is a real showstopper and it is impossible to imagine the sun-drenched streets without it. Wherever you look, you see more and more this typical Ibiza inspired outift. Of course you can also choose to go for more neutral boots, if the cowboy boot is not quite your thing. Whatever you choose, with a high boot you can wear the maxi dress by Ibiza fashion just fine during the fresh spring. Because the boots are a little higher and the dress a little longer, your legs are almost completely covered and you will not get cold. Stylish and comfy at the same time, we love it!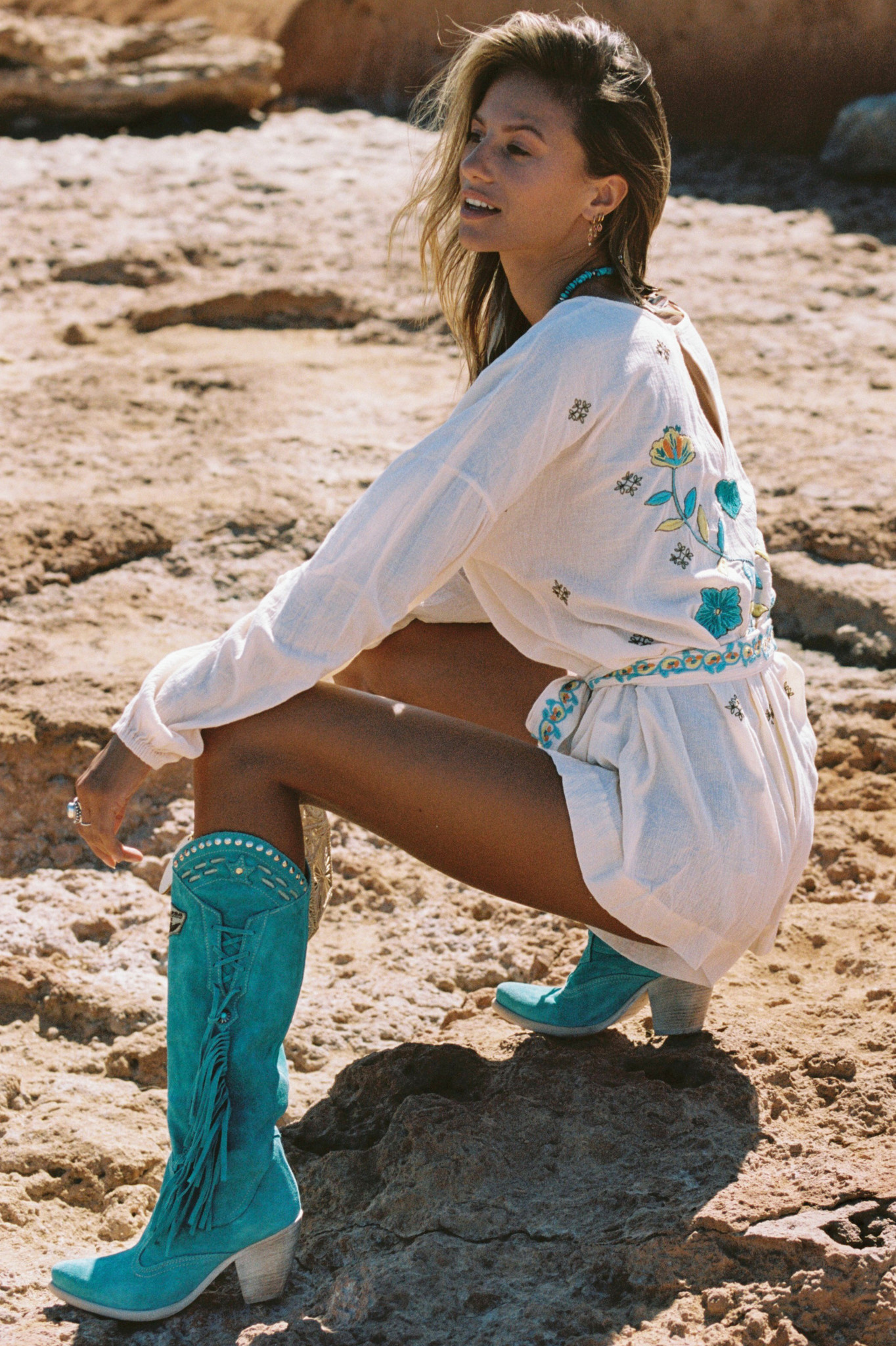 3. Turn your maxi dress into a skirt
You can also wear your maxi dress as a skirt! How to do that? Quite simply, by wearing a chunky knit sweater over the dress. Add an accent at the waist by using a belt and you're ready to go. Ideal for when it's still a bit chilly outside and you don't have enough with just a maxi dress. Also, when summer mornings on the bike call for an extra warm layer, you can super easily throw the sweater over the dress or take it off in the afternoon if it does suddenly get warmer. So thanks to this tip, you create two outfits in one! So if you buy a maxi dress, you're actually buying a dress and skirt in one.
4. Wear your maxi dress with a knitted cardigan
A knitted cardigan it also gives your maxi dress some extra warmth. This way you can wear the item all year round without getting cold. You can choose a fine knit or chunky knit cardigan, depending on your personal style. With this combination you can create a real Ibiza look in no time. Nonchalant, feminine and cool. Want to make the look a little less casual? Then pull out a pair of high heels and put them on under the maxi dress. This will instantly give the whole look a chic look.

For more style tips, feel free to contact us or visit our stores. Our stylists know exactly what is in fashion right now and will help you put together a stunning look. With Ibiza fashion you will shine every day and you can enjoy that real Ibiza feeling all year round.
Never miss anything!
Receive your daily dose of fashion trends, discounts and new collections in your mailbox, so you can be the first to put together your summer outfit! You will also receive € 5 discount on your first purchase! Leave your email address here at the bottom of our homepage. So make sure you never miss out on a discount again and sign up now!

Want to stay up to date with the latest collections, bestsellers and inspiration? Then follow us on social media:
- Tiktok
- Facebook

Have fun shopping!

Love,
Team Ibizamode