The 10 best, most famous and fun beach clubs in Ibiza!
According to Roy Timmermans of Ibiza fashion
@royibiza on Instagram

Ibiza is known for its luxury beach clubs, where you can be served deliciously, lying on beautiful beach beds and lounge sofas. Enjoy delicious wines, cocktails and, of course, the Cava Sangria so popular in Ibiza. Most beach clubs are quite pricey, but often you will be completely pampered. This list includes good beach clubs, but also, for example, a very cozy beach bar that you will never find on your first or second time in Ibiza ;-)
Here are my Top 10 (also read the low budget tip below)
1. Sa Trinxa
On Salinas Beach you will find my number one beach club on the island; Sa Trinxa! The atmosphere here is very relaxed. You see the most diverse crowd together and that makes it so special. In the afternoon there is regularly a DJ spinning and this is often the owner John himself. You can eat well here or just get a drink at the bar. The beds here are not too expensive and there is often a nice party, where people even dance on the beach. Our favorite drink here is the Cava Sangria! And of course you just slurp it down per jug! Cool off with a dip from the 'famous' springboard.
At Salinas Beach you will be amazed by the mixed crowd that walks here, but also by the parades of dancers promoting the club nights. Buy a nice bracelet from the hippies, or a nice cold beer from the locals who serve you drinks on the beach. To get to Sa Trinxa, walk quite a bit along the beach toward the rocks. You'll recognize it by the roof full of palm leaves.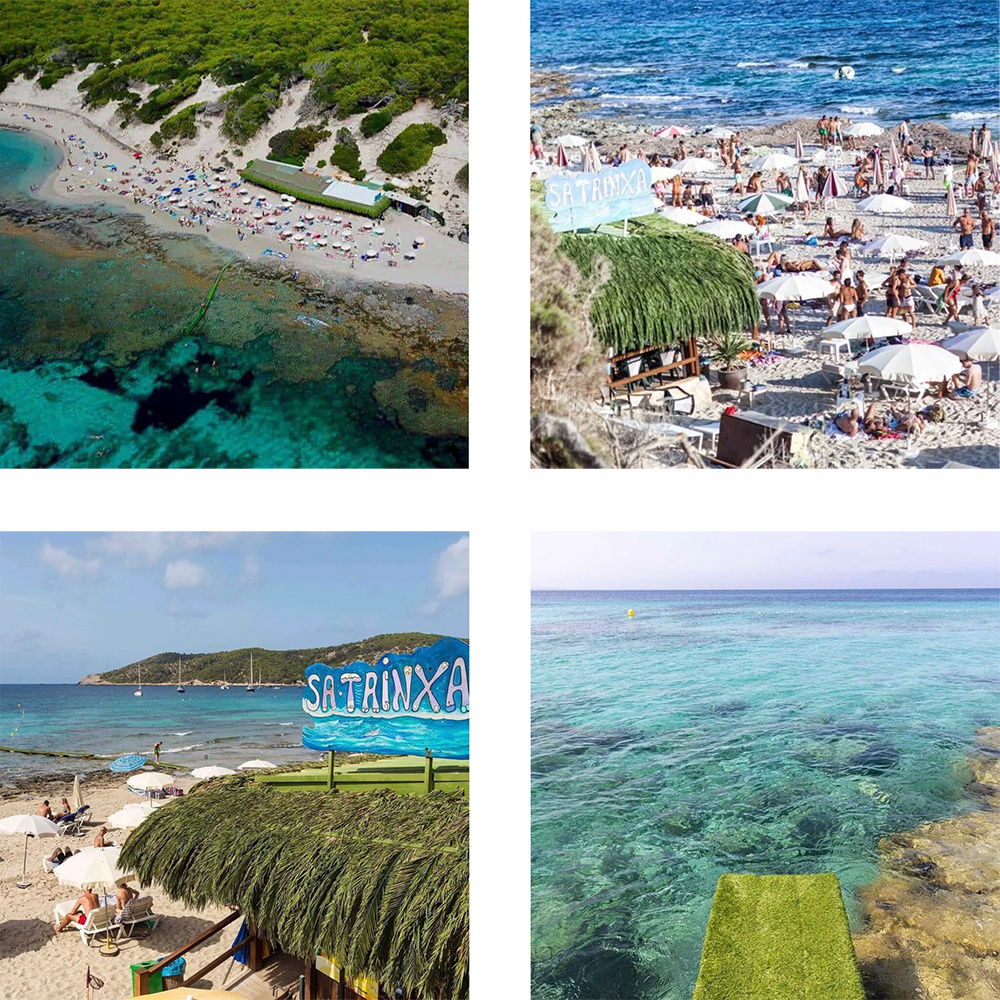 2. Cala Bassa Beach Club (CBBC)
This beach club is located on the beach of Cala Bassa and has an upscale feel, where you can enjoy lunch under the pine trees. The Beach Club is spread throughout the bay and is filled with bars, lounge sofas and beds, cute beach shops and an area with beds for massages. On the beach you can also rent a bed and the service is absolutely top notch! The menu features traditional dishes from Ibiza with nice fresh local products. The cocktails are definitely a must! Cala Bassa beach is beautifully white and the water here is crystal clear and often turns turquoise. At CBBC the DJ plays that real Ibiza sound of lounge and deephouse and all this together creates that wonderful atmosphere we all love so much!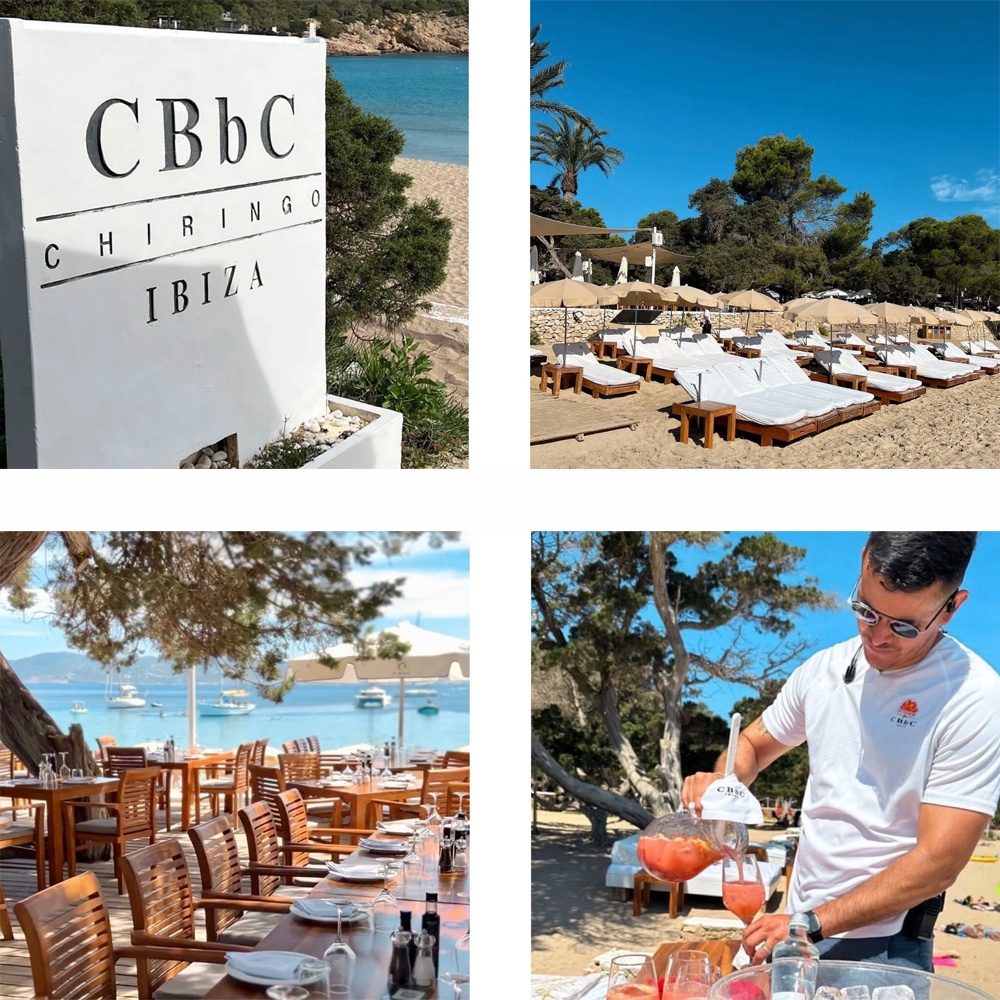 3. Tropicana Beach Club
This cozy and very popular among the Dutch is located on the beach of Cala Jondal and should not be missed in this list. It is located in the south of Ibiza near the airport. During your vacation in Ibiza you should definitely spend 1 day here at your beck and call. Beds are not very cheap here, but it is definitely worth it. Tropicana is the beach club where you can even have a good breakfast after a good night of clubbing. Lunch and dinner are also very good here, so a long day chilling out or enjoying sun, beach and sea is really no problem! With a little luck, a nice salsa party can be created on the terrace on a beautiful summer evening...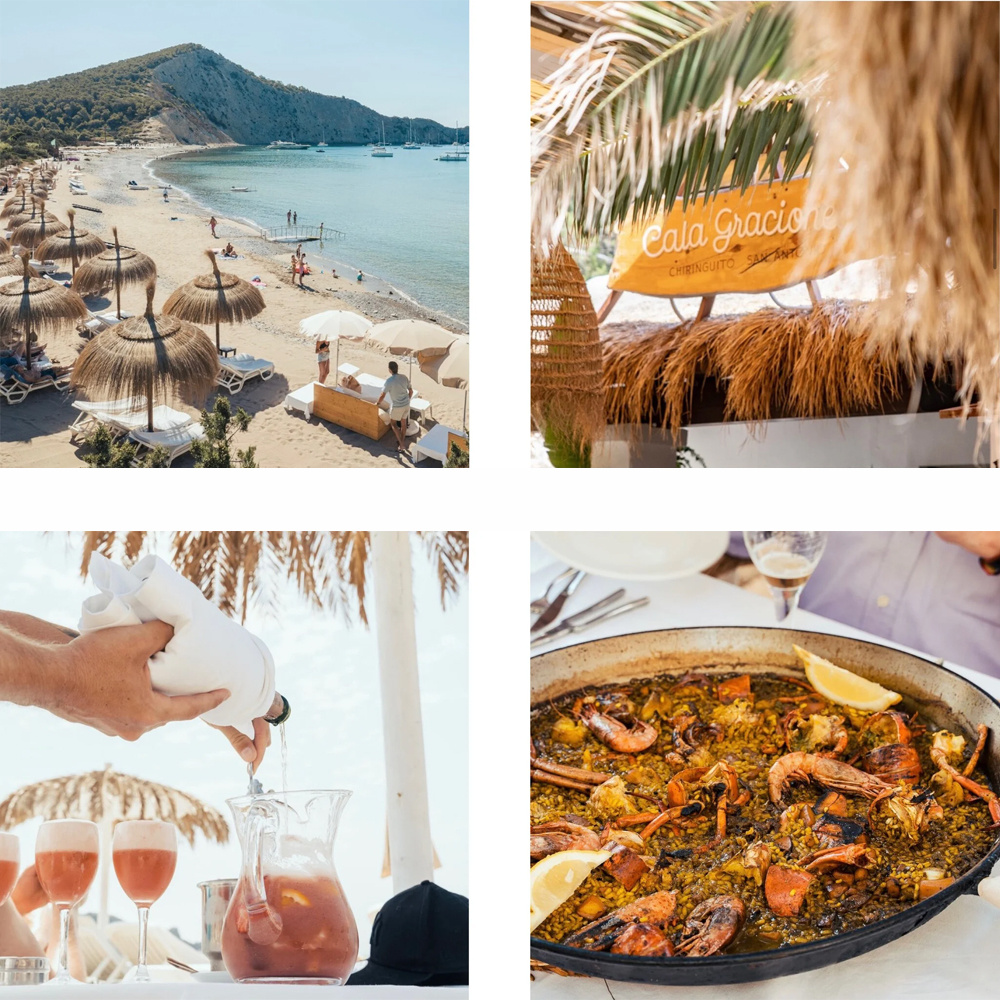 4. Chiringuito Cala Escondida
Tucked away and hard to find is this cute little beach bar. Run by real Ibicencos and is located at Cala Comte just in front of the famous Sunset Ahsram. Just a short walk over the rocks in search of an almost hidden staircase. Enjoy a nice cerveza, or Moijto along with a small (vegan) bite and experience an insanely beautiful sunset. Do not be alarmed, because on this small beach many people sunbathe naked, but everyone at the bar is dressed. Yes that too is the freedom you still find in Ibiza!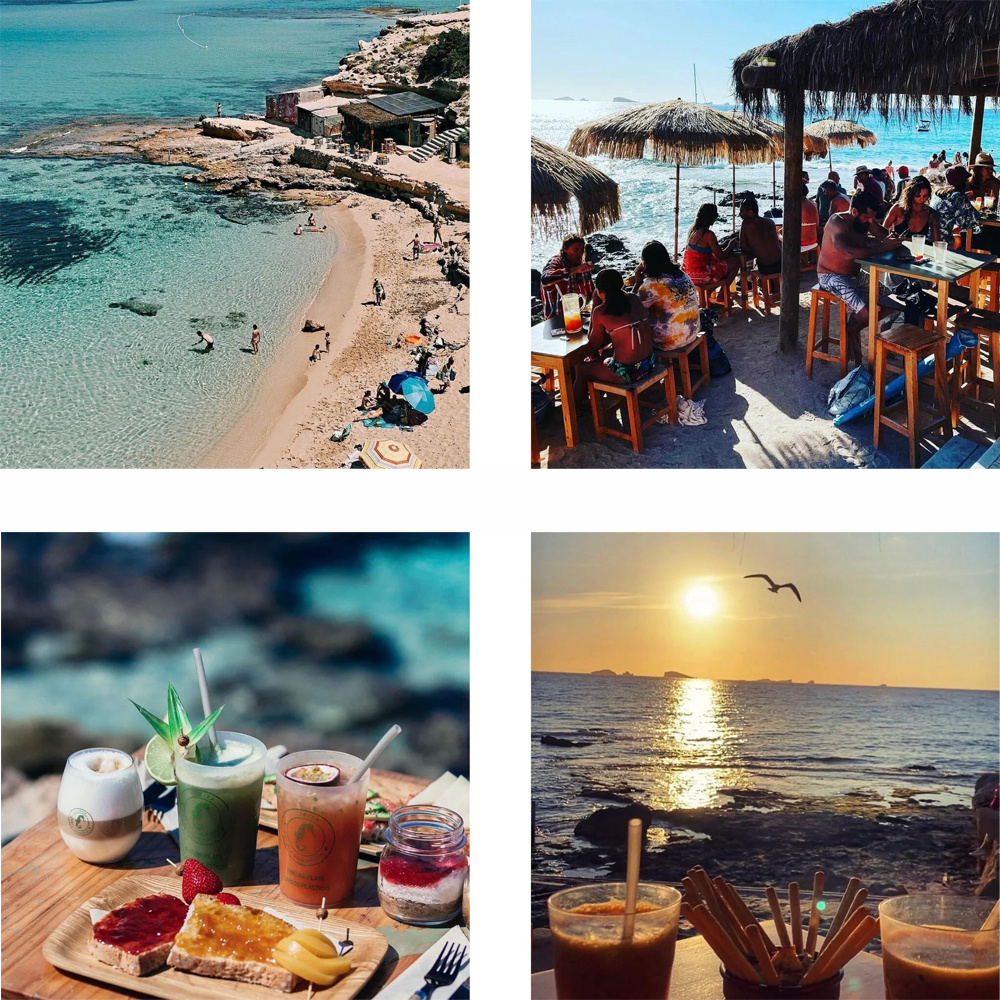 5. Blue Marlin
Everyone has heard of it. This is the club where it is see and be seen. This place is insane and is also known for its good parties. We especially like Sunday nights, although it is crowded and the crowd is pretty "popular". You walk from the terrace onto the pebble beach, which is full of huge sunbeds. Spending a day here is for the real jet set! They even have a yacht service where a small boat will pick you up from your boat, or yacht. Chances are that you will meet real world stars here, such as Beyonce or Lionel Messi. My tip is that it is better to go to a nice party here in the evening, because for a whole day of consumption you will need a large amount of money.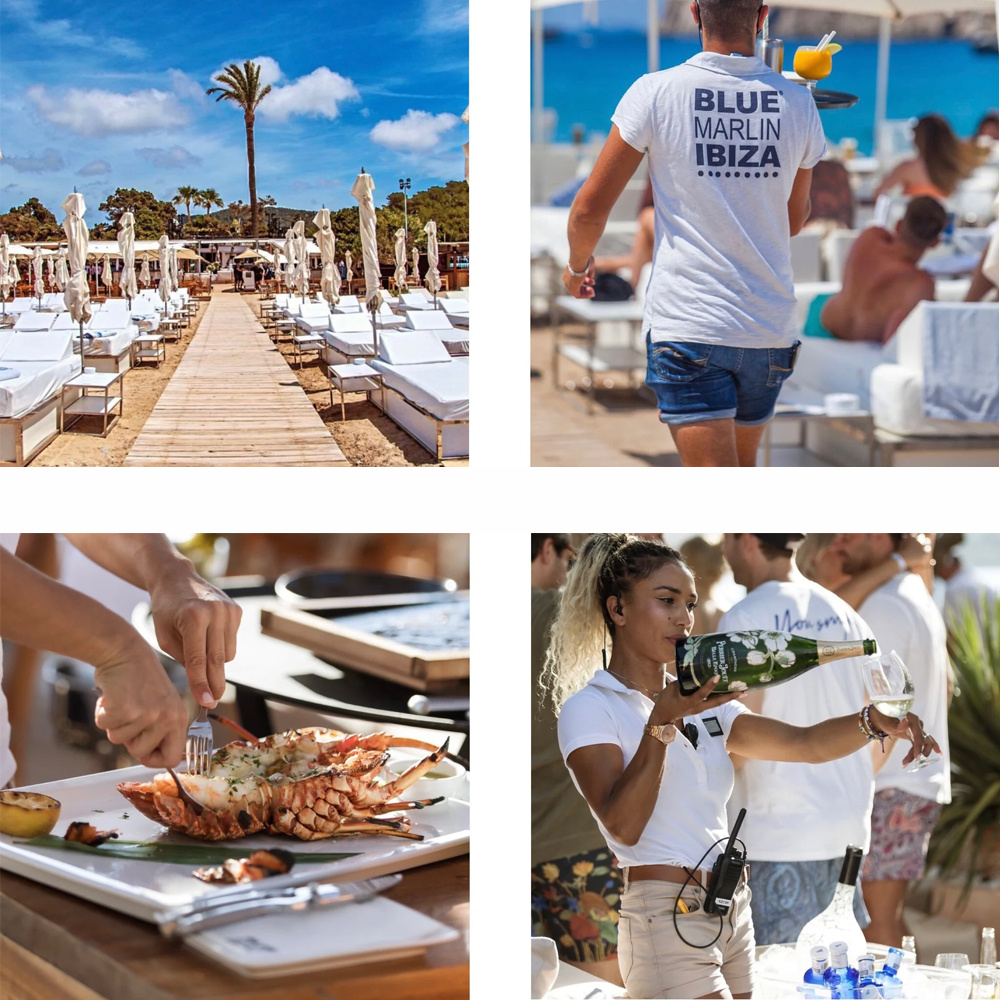 6. Elements Ibiza Beachclub
You will be in your "Element" at this beach club, on the (pebble) beach of Cala Benirras, north of Ibiza. Quite a long descent by car to get to the beach. The view in this cove is insane and the sunset in the summer months is magical. Elements is a nice low-key beach club. An outdoor terrace full of Balinese umbrellas provide that real Ibiza look. This restaurant makes very tasty Mediterranean dishes with a modern twist, and you can enjoy the sunset from the terrace. Sunday nights at Benirras are very popular. The hippies drum until the sun goes down and there is dancing on the beach. This is a real experience!
7. Atzaró Beach
Atzaró Beach is one of the best beach clubs in Ibiza. It is located on Cala Nova beach in the northeastern part of Ibiza. A vast bay with a lovely beach where you find Atzaró Beach on the rocks just behind the parking lot. There is a laid-back relaxed atmosphere here that allows you to have a drink and a laugh during the day and dine under an atmospheric roof at night until the late hours. A beautifully decorated Balinese-style restaurant with an insane view!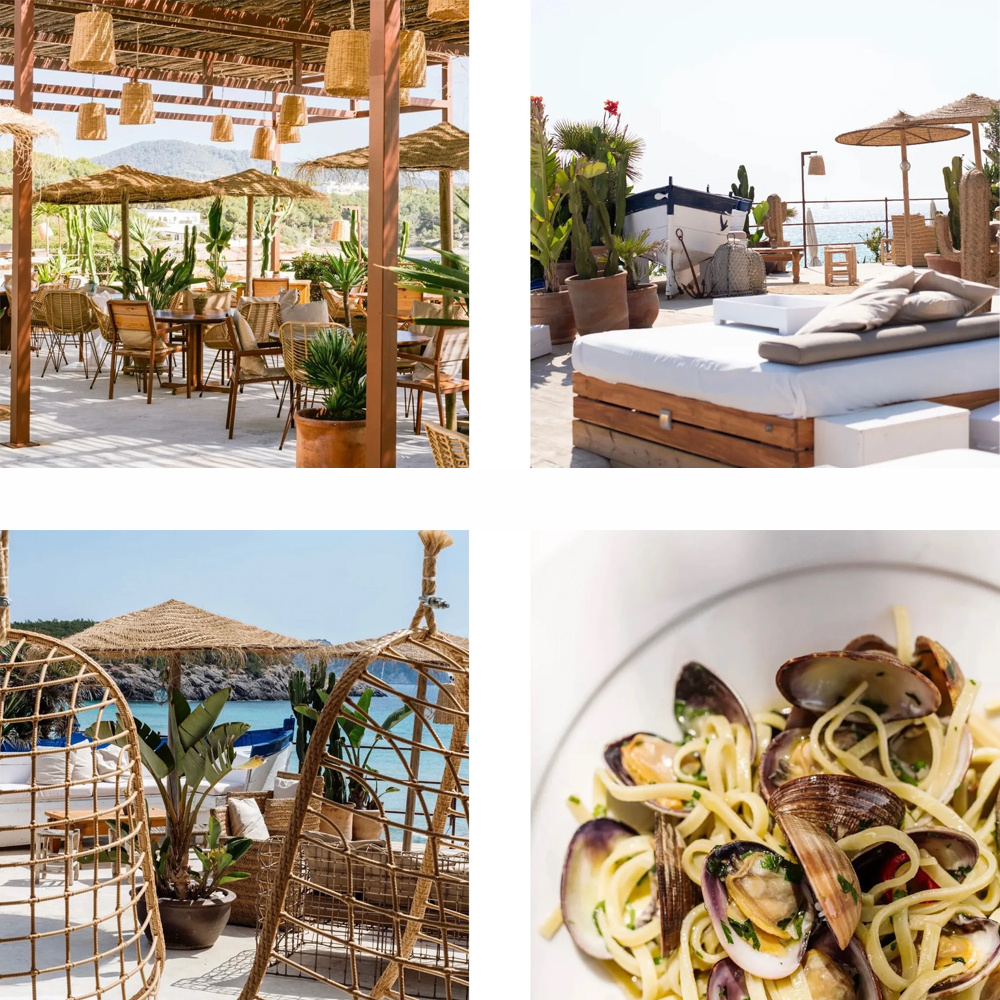 8. Coco Beach Ibiza
On the busy beach of Playa den Bossa you will find this fine and luxurious beach club. Right at the back, so beyond all the craziness of the somewhat vulgar ;) beach clubs on this playa you will find the tranquility for a day of doing nothing at all. Lying on your sun bed, enjoying a delicious lunch and delicious cocktails. The staff actually runs the legs out of their bodies to help you enjoy a well-deserved vacation! Of course, you have to be able to handle that.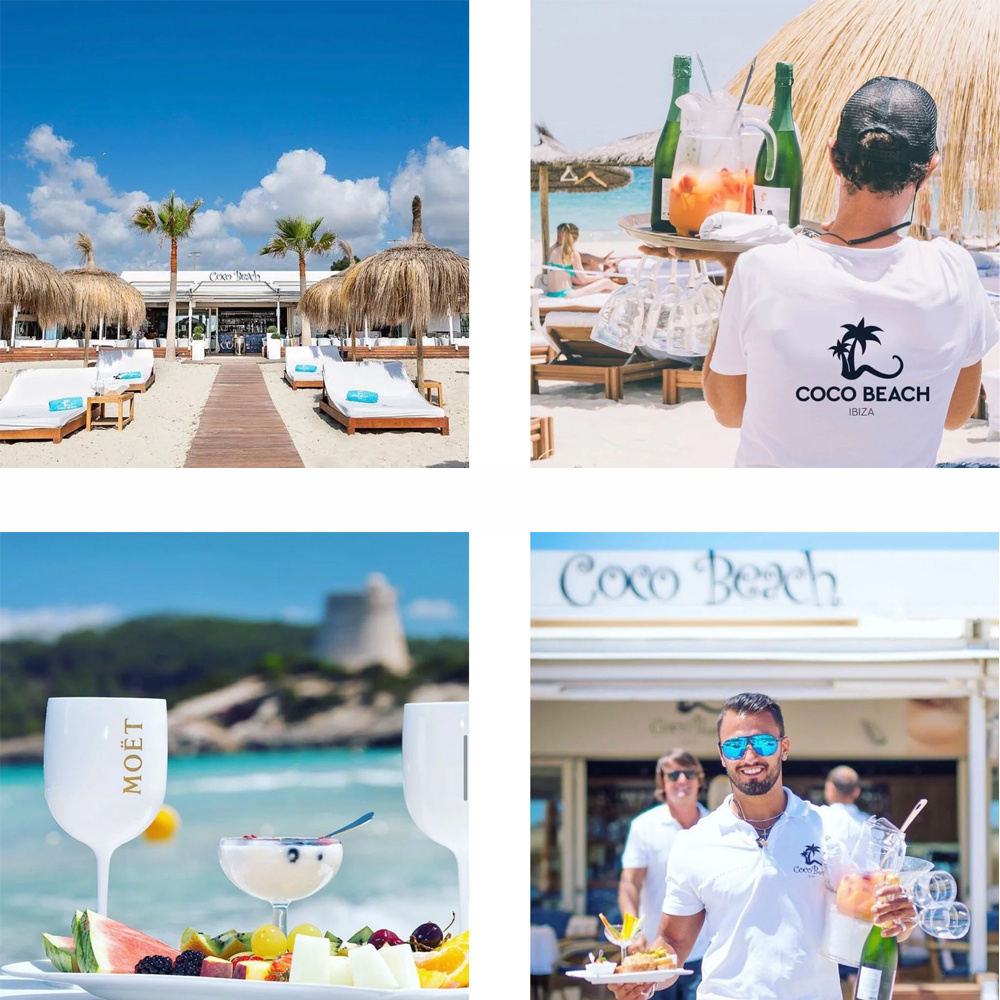 9. Chiringuito Cala Gracioneta
This newly renovated restaurant just behind the bay of Sant Antoni built into the rocks at different heights, so you always have a good view of the bay. Here you just want to drink delicious cocktails that they are shaking behind a nice little bar. This beach club is set among pine trees and is very tastefully decorated with mostly lots of wood, rattan & banana plants. Eat fresh from the sea, or do you prefer the grill, it's all possible here. This Chiringuito has an extensive, but also a bit exclusive menu.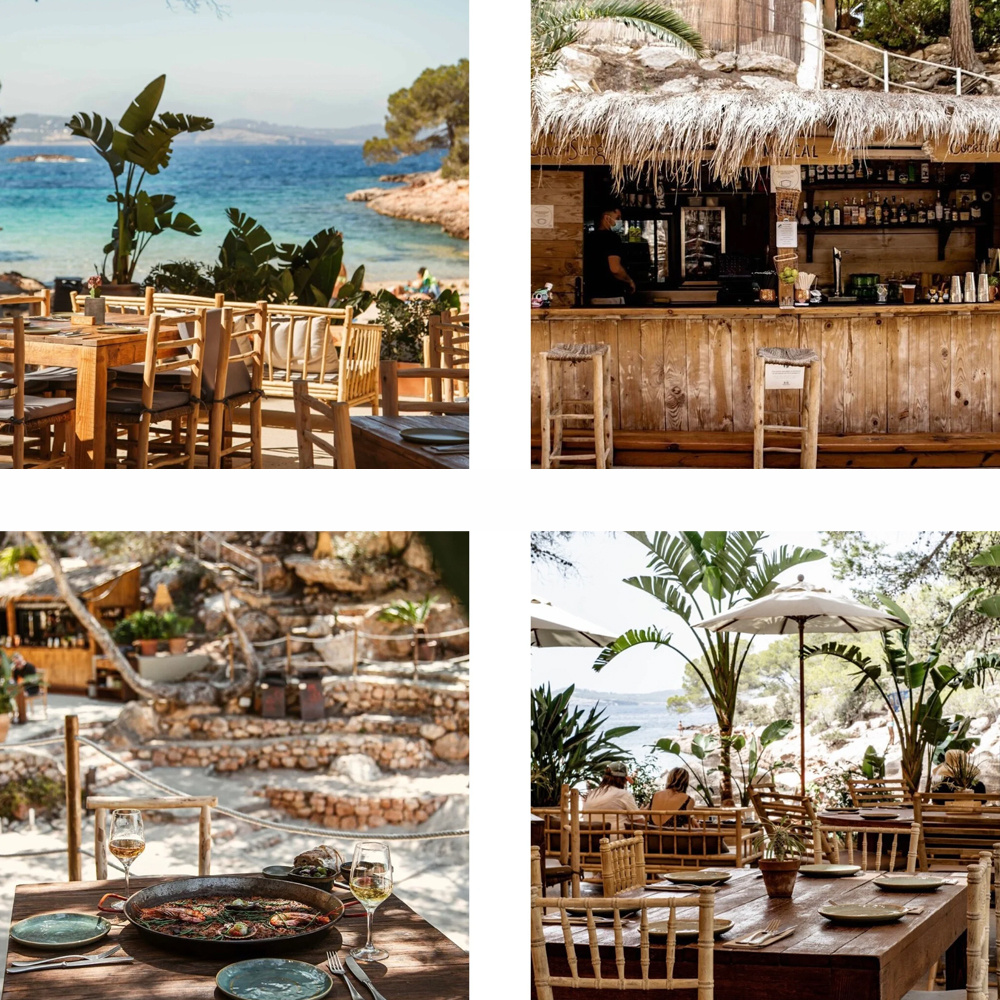 10. Low budget tip
Just lay on the beach with a towel, beach towel or hamam towel the old-fashioned way. A dip in the sea and the sand between your toes will give you that real vacation feeling! Here too you can hear the music of the beach clubs well and often the cold drinks are just offered to you on the beach by the locals, among others. These beers and mojitos taste just as good here and with the money you save you can buy a ticket to that great party, or shop around at the hippy market!

Roy Timmermans, owner ibizamode
Roy's love for Ibiza is an important part of his entrepreneurial and creative life. Roy knows Ibiza like the back of his hand and takes you with his Ibiza tips to all those well-known but also unknown top spots on Ibiza. As a DJ he has a passion for deephouse and apart from the fact that he regularly attends good parties on the island of Ibiza, he likes to play a few records himself.