Combining cowboy boots is how you do it!
Cowboy boots have long since ceased to be just for cowboys and girls. They are now a popular item in the fashion world. It is just sometimes difficult to know how to combine these boots with the rest of your outfit. In this blog post, we give tips on how to combine cowboy boots for different occasions.
Casual outfits
A casual look is suitable for every day. For example, combine the cowboy boots with denim jeans a simple look for a casual look. For a relaxed casual look, you can pair cowboy boots with an oversized blouse over your jeans. You can create a summer casual look by pairing cowboy boots with a short denim skirt and a t-shirt. So there are multiple ways to wear cowboy boots in everyday life with a casual look.
Work outfits
Whether you wear neat outfits or casual outfits to work, cowboy boots fit the outfit. For example, wear the boots under neat slacks. On these you can wear a blouse, giving you a trendy but professional look. Cowboy boots can also look good under a midi dress. If you wear a blazer over this, you create an accessible and chic look for the workplace.
Festive outfits
If Cowboy boots fit under a casual and work outfit, of course they can also go super well with a festive outfit. For example, combine the boots with a long flowy dress and statement jewelry. This creates a beautiful and cool bohemian look, perhaps a good option for a festival. You can also combine the cowboy boots with leather leggings and a cropped top. This is a slightly tougher and festive look. For a cool and chic outfit in one, you can pair the cowboy boots with a festive dress. In short, cowboy boots make an outfit easily festive.
Festival look
A festival look with cowboy boots without a dress? It is possible! For example, wear nice denim shorts with a crochet top. Underneath, your cowboy boots will look perfect. With accessories such as fringes, jewelry, garlands or a nice hat, the festival look is complete.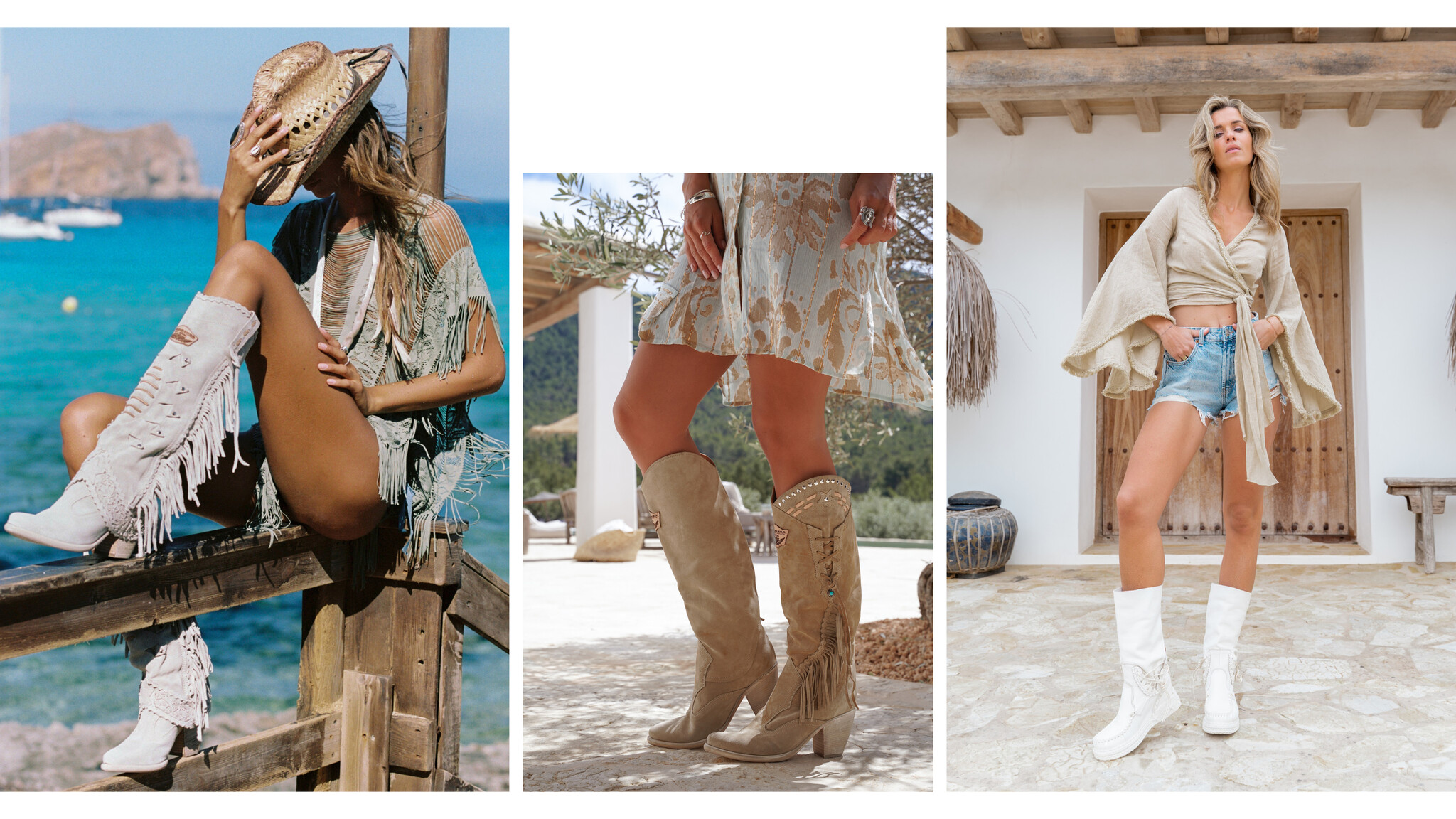 Cool-girl look
Would you like to create a tough outfit with cowboy boots? Then choose, for example, leather leggings with an oversized shirt. Underneath, cowboy boots in different colors will fit. Will it be a hot day? Then wear an oversized shirt without the leather leggings. With the cowboy boots, you have the tough look in anyway.
Plenty of options
Cowboy boots are a trendy item in the fashion world and can be combined in a variety of ways. Whether you are looking for a casual, work or party outfit, cowboy boots can be worn in any situation. Hopefully through these tips you have gained inspiration and can combine cowboy boots your way!
Newsletter
Are you already subscribed to our newsletter? Receive a daily dose of trends, discounts and new collections in your mailbox. You will also receive €5 discount on your first purchase! Leave your e-mail address here at the bottom of our homepage.
Would you like to stay even more informed about the latest collections, bestsellers and fashion inspiration? Then follow us on social media:
Have fun shopping!
Love, Team ibzmode